Superbox
56 pieces
83 €
0 reviews -
Vegetarian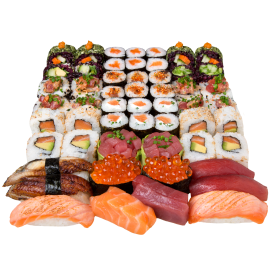 Our most complete and fully configurable box.
Our Superbox is our most complete box, we have also invested many efforts so that you can configure it completely to your liking. Choose your nigiris, rolls, specials, sashimis and makis that you like the most and we will prepare it as always with all our love and the best raw material, so that you get home totally to your liking.
What are you waiting to try it?

What opinion have our customers?
0 review
-
-
Save on delivery costs!
Order Now