California Box
32 pieces
31,00 €
45 reviews -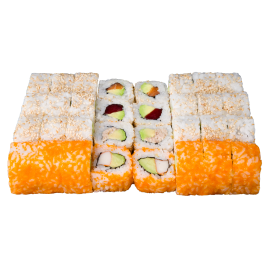 8 salmon roll, 8 tuna roll, 8 surimi roll and 8 baked tuna roll.
California rolls are the most famous product on the whole menu, so it goes without saying that there's a whole box dedicated to this American-style sushi.
If there's one box you can't go wrong with, it's this one!
Contains
Crustaceans
Eggs
Fish
Soy
Sesame
Molluscs
What opinion have our customers?
45 reviews
-
-
Save on delivery costs!
Order Now