Freshbox Deluxe
52 pieces
71,90 €
17 reviews -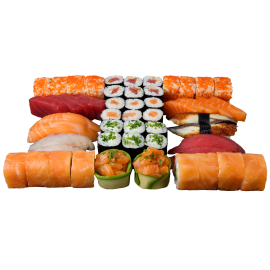 2 special roll, 8 assorted nigiri, 4 tuna sashimi and 8 salmon sashimi, 18 assorted maki and 2 special gunkan.
Our Freshbox has evolved into an even more gourmet experience. The Deluxe version is the crème de la crème of boxes and features unique products you'll only find in this box.
Haven't tried our famous salmon tartare cups yet?
Contains
Gluten
Crustaceans
Fish
Soy
Dairy products
Sesame
What opinion have our customers?
17 reviews
-
-
Save on delivery costs!
Order Now