Freshbox
50 pieces
62,50 €
37 reviews -
Gluten-Free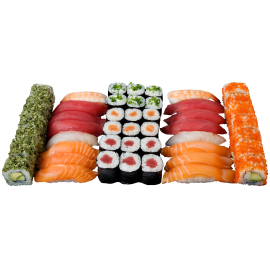 6 salmon nigiris, 6 tuna nigiris , 2 shrimp nigiris, 2 yellowtail nigiris, 6 salmon makis, 6 tuna makis, 6 cream cheese makis, 8 crabmeat roll and 8 vegetarian roll.
The original Freshbox. Back in the day this was the most gourmet box on the whole menu, and today it remains one of our customers' most popular choices.
The classics never go out of fashion!
Contains
Crustaceans
Fish
Dairy products
Sesame
What opinion have our customers?
37 reviews
-
-
Save on delivery costs!
Order Now