Gourmet box
24 pieces
46 €
32 reviews -
Our favourites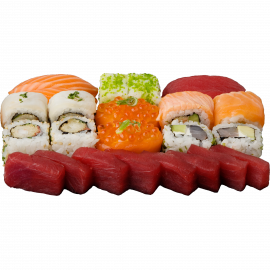 8 tuna sahimi, 4 shrimp tempura roll, 5 special salmon roll, 2 ikura salmon gunkan, 2 tuna nigiri, 2 tuna salmon and 2 tobiko wasabi roll.
This box is made up of the most exclusive products on the whole menu: sashimi, ikura, not to mention a few surprises unique to this box.
If you want the finest products on your table, this is the combination for you!
Contains
Gluten
Crustaceans
Fish
Dairy products
Sesame
What opinion have our customers?
32 reviews
-
-
Save on delivery costs!
Order Now