Gourmet single box
16 pieces
19,50 €
114 reviews -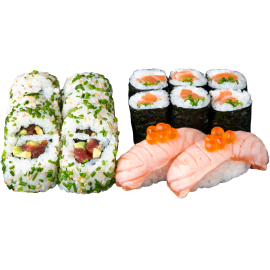 8 tuna tartar roll, 6 salmon maki, 2 flamed nigiri salmon with ikura.
Not designed for sharing, this box is all yours. Especially for single people or those who prefer to be alone while they enjoy the finest sushi, since you're better alone than in bad company.
This combination is the best company you could ask for.
Contains
Fish
Soy
Dairy products
Sesame
What opinion have our customers?
114 reviews
-
-
Save on delivery costs!
Order Now