Maki Box
24 pieces
19,40 €
43 reviews -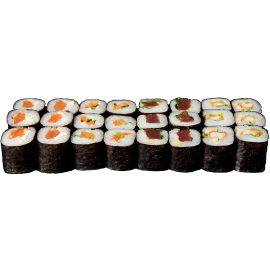 6 salmon cheese maki, 6 veggie maki, 6 tuna mayo maki and 6 crispy chicken maki.
A straightforward choice for those of you who want an easy life. You can't go wrong with makis.
This box contains makis to suit everyone!
Contains
Gluten
Eggs
Fish
Nuts
Dairy products
Mustard
What opinion have our customers?
43 reviews
-
-
Save on delivery costs!
Order Now