Mixed Box
30 pieces
25,00 €
79 reviews -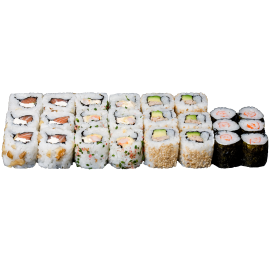 8 smoked salmon roll , 8 shrimp tempura roll , 8 baked tuna roll, and 6 surimi maki.
When we created this box, our intention was to offer the most varied combination possible, using no raw fish.
Designed for newcomers to Japanese cuisine who want to sample a little of everything.
Try it and find out for yourself!
Contains
Gluten
Crustaceans
Eggs
Fish
Nuts
Soy
Dairy products
Mustard
Sesame
What opinion have our customers?
79 reviews
-
-
Save on delivery costs!
Order Now