Nigiri and sashimi Box
11 pieces
20,80 €
64 reviews -
Gluten-Free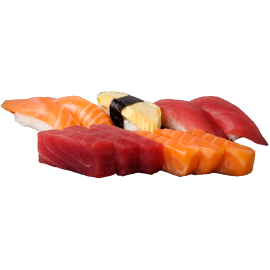 2 salmon nigiris, 2 tuna nigiris, 1 tamago nigiri, 3 tuna sashimi and 3 salmon sahimi.
A box for raw fish aficionados. The most authentic Japanese cuisine.
Featuring only nigiris and sashimi for a profoundly Japanese experience!
What opinion have our customers?
64 reviews
-
-
Save on delivery costs!
Order Now