Shrimp tempura mayo
10 pieces
13,00 €
456 reviews -
Our favourites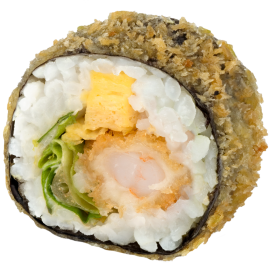 Shrimp tempura, tamago, salad and mayo.
Ever since we added this to our menu, it's become a firm favourite among our customers.
The combination of ingredients and the touch of tempura make this futomaki an option to suit all tastes.
Contains
Gluten
Crustaceans
Eggs
Soy
Mustard
What opinion have our customers?
456 reviews
-
-
Save on delivery costs!
Order Now