Spicy tempura futomaki
10 pieces
12,90 €
115 reviews -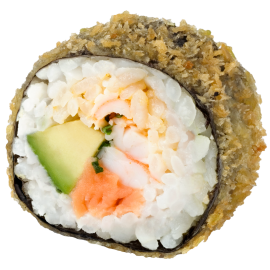 Salmon, avocado, shrimp and cream spicy sauce.
The most recent addition to the tempura family, an original Sushifresh combination: salmon, shrimp, avocado and our special spicy sauce come together in every mouthful.
You'll love the hint of spice in this futomaki!
Contains
Gluten
Crustaceans
Eggs
Fish
Soy
Mustard
What opinion have our customers?
115 reviews
-
-
Save on delivery costs!
Order Now