Tuna and salmon Box
14 pieces
19,90 €
191 reviews -
Gluten-Free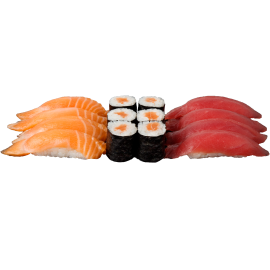 4 salmon nigiris, 4 tuna nigiris and 6 salmon makis.
Decisions, decisions... Tuna or salmon?
With this box, there's no need to choose. It has a bit of both: nigiris and makis made with our finest tuna and salmon.
What opinion have our customers?
191 reviews
-
-
Save on delivery costs!
Order Now