Veggie Box
26 pieces
17,70 €
39 reviews -
Vegetarian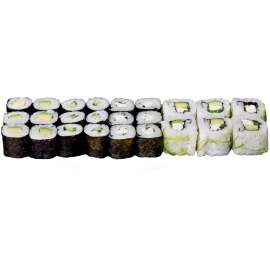 6 avocado maki, 6 cucumber maki, 6 cheese maki and 8 vegetarian roll.
At Sushifresh we want to make sure there's a combination for everyone, and if you're a vegetarian you'll love this box: vegetarian sushi in a box that's proven to be a hit with non-fish eaters.
Enjoy!
What opinion have our customers?
39 reviews
-
-
Save on delivery costs!
Order Now